Message
Message from the Dean of the Faculty
"Nurturing innovative medical professionals and life scientists who respect the sanctity of life"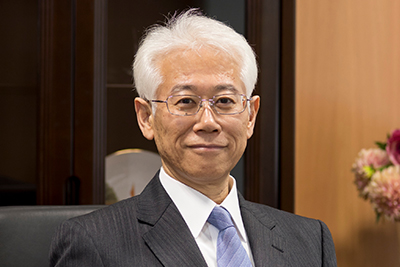 To realize its philosophy of "Nurturing innovative medical professionals and life scientists who respect the sanctity of life," Tottori University Faculty of Medicine provides education with the goals of "Cultivating unlimited human love and a high sense of ethics," "Creation of cutting-edge medicine, life sciences, nursing science, and clinical laboratory science," "Contributions to community development," and "Global activities." It is important that all students be properly educated in a general sense as well as being professionally qualified; therefore, we place great emphasis on the development of essential communication skills, the cultivation of a strong sense of ethics, and the use of small-group problem-based learning approaches and are constantly working to update and improve the curriculum by introducing active learning.
Moreover, we have established and continued to improve a simulation center that is always available (even for persons outside the University) before and after graduation and also provide seamless education between the pregraduate and postgraduate periods in cooperation with the University Hospital's postgraduate clinical training center, the medical staff training center, and the community medical support center because medical professionals who have not acquired adequate practical skills can often struggle with this aspect of their work in clinical situations.
It is no exaggeration to say that Tottori Prefecture has a markedly aging population and is a harbinger of what awaits Japan in 20 or 30 years. At our satellite center established in a municipal hospital in a hilly and mountainous area, we explore progressive approaches to community healthcare in future Japan, including collaborative practical training with medical students and nursing students and understanding of community issues of home care and reach the best solution while staying in residents' homes.
Development of a global prospective is also an important issue. Our Faculty of Medicine promotes active international exchanges, having concluded agreements for exchange with overseas medical faculties and medical schools (one in the USA, three in Russia, one in the Philippines, one in Mongolia, two in Indonesia, two in Korea, and two in China). Every year, students or teaching staff go there for training, research, and education to help to develop medical professionals and researchers with a broad perspective. In addition, we plan to be reviewed for medical education accreditation in 2018 to respond to the globalization of medical education.
Research is listed as one of the philosophies of our University. Recent students tend to keep away from basic research, which is unlikely to provide immediate results. Thus, all the schools enroll undergraduates in research laboratory to cultivate their research mind and, at the same time, make an effort to enhance graduate education. As well as general courses, there are courses in oncology, the science of healthcare for children with disabilities, the innovative future medicine creation course, or the course for certified nurse specialists in cancer nursing to develop human resources with a broader perspective.
Our Faculty of Medicine consists of the School of Medicine, the School of Life Sciences, and the School of Health Sciences, each of which provides its respective characteristic education and advanced research. In order to integrate and further develop their powers of education and research, there is a pressing task to build education and research systems across the schools. To complete these tasks, cooperation between the three schools is most important, and reforms toward the future development of our Faculty of Medicine may be necessary.
Tottori University Faculty of Medicine has been and continues to be community-based to work toward cutting-edge education and research and to make an effort to develop well-educated medical professionals and other professionals with a global perspective. We are building a vision for the future to try to contribute to the development and improvement of medicine, life sciences, and health sciences. We are eagerly looking for students who are willing to fly high in the future along with us to enter our University.
Dean of the Faculty of Medicine, Tottori University

Yasuaki Hirooka