Message
Message from the Dean of the Faculty
Developing unique and innovative human resources who can contribute to local communities and global societies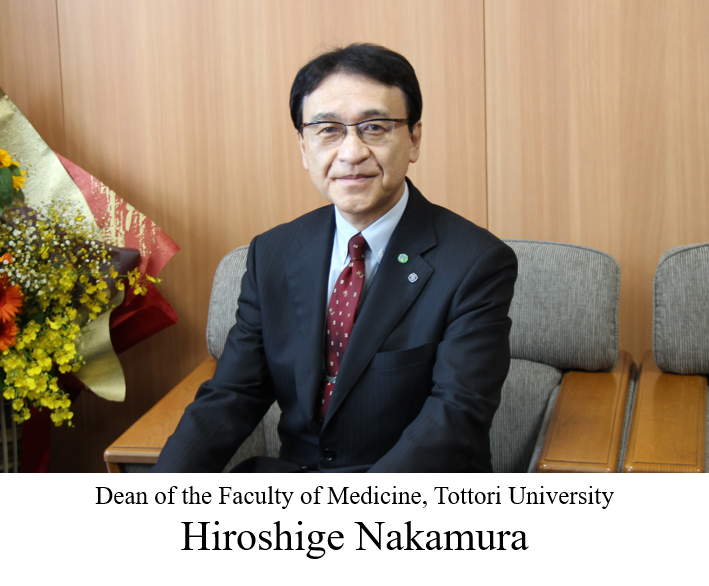 The Faculty of Medicine , Tottori University is located in Yonago City, a commercial center of the western part of Tottori Prefecture. Situated in the center of the San-in region, it is blessed with a rich natural environment, with Mt. Daisen, the highest mountain in the Chugoku region to the southeast, the Sea of Japan to the north, and Nakaumi (literally means "middle sea"), the southern limit of the Tundra swans' migration path and a Ramsar site, to the west. The view of Miho Bay and Mt. Daisen from the Yumigahama Beach will take your breath away. This is a wonderful environment to spend a great deal of time studying medicine. As stated on our website, our university offers "medicine unique to this place".
The Faculty of Medicine , Tottori University was established in 1949 after Yonago Medical School (established in 1945) and subsequently Yonago Medical College. In 1990, the School of Life Science was established, the first of its kind in Japan, to produce researchers to explore the principles of life phenomena and elucidate the causes of diseases. In 1999, the Tottori University College of Medical Care Technology, where nurses, public health nurses, and clinical laboratory technicians were taught, became the School of Health Science, and thus, the Faculty of Medicine currently has three schools consisting of the School of Medicine, School of Life Science, and School of Health Science. In addition, the Graduate School of Medical Sciences was established for the Major in Medicine, Major in Integrated Medical Sciences , and Major in Clinical Psychology.
In 2020, The Faculty of Medicine , Tottori University celebrated its 75th anniversary. Throughout our long history, we have fulfilled social missions as the center of medical education, research, medical treatment, and human resource development in the San-in region, producing 6,011 doctors, 1,471 nurses, and 730 clinical laboratory technicians, and awarding 1,040 bachelor's degrees in life sciences to individuals who are now actively working as medical leaders throughout Japan. In addition, many of our graduates teach future medical professions at The Faculty of Medicine , Tottori University.
Our school promotes communication and innovation in education, which are characteristics of our university's mission. Based on Tottori University's unique philosophy of the "integration of knowledge and practice", our school offers humanity education classes, such as "human communication", "medical communication", and "basic sign language", as well as active learning, such as "assignment to laboratories" and "problem-based and team-based learning" to enhance creativity. Our School of Medicine was highly evaluated according to the Medical Education Assessment (received in July 2018). The training of all-around medical professionals who have high communication skills, care for patients, are committed to their research, and are full of creativity and individuality is the most important goal of our school.
The Faculty of Medicine , Tottori University has produced world-renowned research results in basic medicine, including medical applications of artificial chromosomes and stem cell manipulation technologies (Chromosome Engineering Research Center) and the development of antibody drugs (Tottori Pharmaceutical Innovation Center). Based on these advanced and distinctive research activities, we are developing the latest medical technologies such as regenerative medicine and genomic medicine. In the area of clinical medicine, our school is working with our university hospital to promote minimally invasive treatment using advanced robot-assisted surgery (Center for Minimally Invasive Surgery) and to develop new medical equipment (Advanced Medicine, Innovation and clinical Research Center). In addition, children's health and environment, lifestyle-related diseases, nursing care, and dementia are being actively investigated by taking advantage of the low birthrate and advanced aging in the San-in region. We believe that it is our mission to actively promote the training of life science, basic medical, and clinical researchers who will be the future leaders of our university, and to develop human resources who can promote cooperation between clinical and industrial fields.
The Faculty of Medicine , Tottori University is committed to fostering human resources who can contribute to local communities as well as global societies, while at the same time developing highly specialized medical professionals. Highly specialized medicine, community medicine, and global medicine must complement each other, in order to develop medical professionals with a good sense of balance. In the regional medical care education, in addition to experience-based classes, such as "early experience / volunteer" and "regional medical care experience", clinical training is being implemented with participation in medical care at hospitals and clinics in the San-in region. Furthermore, to develop global medical professionals, clinical training and training programs are being implemented overseas such as the United States, the United Kingdom, Canada, the Philippines, and Russia.
The Schools of Medicine, Life Science, and Health Science carry out distinctive education and advanced research, but it is extremely important to integrate their educational and research capabilities. Therefore, educational systems beyond the departments, such as joint lectures and assignment to laboratories, are being established for the development of the entire medical school. In addition, we are actively building systems of cross-faculty collaboration in medicine, engineering, and agriculture (between Yonago Campus and Tottori Campus), being engaged in sustainable initiatives with the UN's SDGs kept in mind by the entire Tottori University.
In 2020, coronavirus has changed our world dramatically. The Faculty of Medicine , Tottori University was one of the first to adjust ourselves to the new normal, and developed a learning environment for face-to-face lectures with thorough infection prevention measures and for online learning. With the concept of digital campus, we aim to make our learning environment even better while actively utilizing information communication technology and artificial intelligence. The Faculty of Medicine , Tottori University hopes that you take on the challenge of learning "medicine unique to this place". We are looking forward to meeting young people passionate about medicine, medical care, and life sciences.
Dean of the Faculty of Medicine, Tottori University

Hiroshige Nakamura