Message
Message from the Dean of the Faculty
Fostering talent and solutions in Tottori Prefecture and delivering the results to global communities in need, together with all parties involved within and outside the university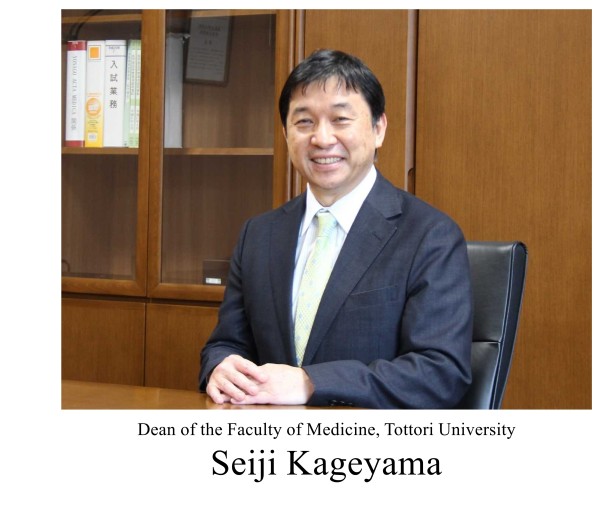 The Faculty of Medicine, Tottori University, is located in Yonago City, in the western part of Tottori Prefecture. To the north is the Sea of Japan across the Nakaumi Sea, and to the south rises the beautiful mountain Mt. Daisen. It is a quiet environment where one can contemplate in nature, blessed with views of the seas and mountains, and an ideal environment where academic pursuits and living spaces are close to each other in the backwaters of Japan. In addition, Yonago Airport, an international airport located at the transportation hub adjacent to the faculty, provides convenient access for traveling to exchange opinions with domestic and international stakeholders. The compact size of Tottori Prefecture also has the advantage of creating an effective venue for social experiments. This is exactly the place to foster projects that can be disseminated to the world.
Thanks to the dedicated efforts of the many people involved at the time of its founding, the Faculty of Medicine, Tottori University, which was established soon after World War II, celebrated its 75th anniversary in 2020, and is now looking ahead to its 100th anniversary. During this period, the School of Life Science was established to meet the needs of the "bio" era (1990), and the education and research systems of nursing and clinical laboratory science were organized as the School of Health Science (1999). Thus, the Faculty of Medicine consists of three schools. The Graduate School of Medical Sciences has been organized to encompass three majors: Major in Medicine (Doctoral Course), Major in Integrated Medical Sciences (Master's and Doctoral Course), and Major in Clinical Psychology (Master's Course). In this way, a diverse system of studies in the field of medical care has been established within this faculty.
As a national university medical school, the Faculty of Medicine, Tottori University, will continue to be an institution that covers all fields of medicine and medical care, and is capable of dealing with all diseases. It also aims to contribute to global medical care by making the best use of the traditional characteristics of our historical activities. The faculty is a place where undergraduate and graduate students attempt to contribute to medical care through study and research. It provides vocational education to support the current state of medical care, and research education for the next generation of medical care. Faculty members work together with students to advance the "stories" of their own educational and research projects. The "stories" currently in progress are a product of the historical tradition created by the faculty over 75 years.
Medical education at the faculty is aimed at understanding and practicing prevention and treatment, including understanding the process leading to illness as a disruption of normality, learning methodologies related to diagnosis and treatment, and participating in practical training. Education to address social problems is also provided within it. However, as each school has its own set of challenges and solutions, there are some differences in approaches among the School of Medicine, School of Life Science, and School of Health Science. The School of Medicine is oriented to treatment based on pathological ideas, whereas the School of Life Science attempts to add originality to such ideas. At the School of Health Science, Major in Nursing pursues the evolution of nursing methodology to improve daily life, while Major in Clinical Laboratory Science focuses on training specialists in constantly evolving cutting-edge medical technology.
The Faculty of Medicine, Tottori University considers the possibility that some lives cannot be saved today, but they may be saved tomorrow. It attempts to help patients who cannot be completely cured today return to their normal social lives tomorrow. These are achieved through "research". In the education of undergraduate students, we direct their attention not only to the "practice of medical care", but also to the "evolution of medical care". The education of graduate students is research itself, so we encourage students to pursue research results that lead to the "evolution of medical care". Faculty members as researchers produce seeds that promote the "evolution of medical care". We hope to reveal these seeds from those that can be made public, and to give back to society the achievements obtained from them in accordance with the progress.
The faculty aims to contribute to society through education and research. Its contribution to society is not limited to human resource development through medical school and graduate school education, but includes research results. In addition to social contribution through education and research, we believe that the faculty should also contribute to society by communicating globally recognized knowledge and methodologies to students in a clear and understandable manner. However, it seems that educators and researchers are often unaware of many things they should or could contribute to. We hope that we will receive many requests from outside the university, and use them as a good opportunity to develop our education and research. Necessity is the mother of all activities. Your guidance and support would be very much appreciated.
Dean of the Faculty of Medicine, Tottori University

Seiji Kageyama